The Welsh Trophy
Awarded annually for the best shark of the season by a Member resident in Wales
At the committee meeting of the 7th July 1971 the Welsh Trophy was donated. It was to be presented to the member of the SACGB resident in Wales for the best fish of the season.
This was proposed by P Maddock and seconded by Mr G Nancollas.
The earliest winner on the current trophy is G Braham in 1991 which suggests that the initial trophy has been misplaced.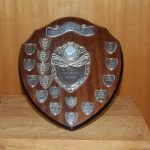 | | | | |
| --- | --- | --- | --- |
| Year | Name | Species | Estimated Weight |
| 2023 | Andrew Baker | Blue | 131lbs est |
| 2020 | Andrew Baker | Blue | 131.5lbs est |
| 2018 | No award | | |
| 2017 | No award | | |
| 2013 | A Griffiths | Blue | 108lbs |
| 2001 | R Preece | Blue | 118lbs |
| 1993 | G Braham | Porbeagle | 117lbs |
| 1991 | G Braham | Porbeagle | 128lbs |
| 1988 | B Robinson | Porbeagle | 95lbs |
| 1986 | S Farr | Porbeagle | 135lbs |
| 1985 | T Bird | Porbeagle | 147lbs |
| 1983 | T Bird | Porbeagle | 109.5lbs |
| 1982 | D Ellis | Porbeagle | 190lbs |
| 1981 | F Jones | Porbeagle | 263lbs |
| 1980 | P Oliver | Porbeagle | 122lbs |
| 1979 | F Jones | Porbeagle | 140lbs |
| 1976 | C Williams | Porbeagle | 212lbs |