W K Wileman Midland Trophy Trophy
It is recorded in the 1962 Final Report for the SACGB that Mr. W K Wileman presented the club with this trophy and it was to be known as the W K Wileman Trophy. It was to competed for by members living within a 50 mile radius of Nuneaton and was for the heaviest shark irrespective of the species.
A replica of the trophy was to be presented each year to be retained permanently by the winner. This no longer happens.
The current trophy is awarded annually for the best shark of the season by a member resident within 50 miles of Nuneaton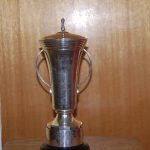 | | | | |
| --- | --- | --- | --- |
| Year | Name | Species | Estimated Weight |
| 2023 | Andy Smith | Blue | 110.5pts |
| 2022 | Ian Harbage | Blue | 106pts |
| 2021 | Simon Davidson | Porbeagle | 550lbs |
| 2020 | Jason Heenan | Blue | 121lbs |
| 2019 | Harvey O'Malley | Blue | 173lbs |
| 2018 | Danny O'Malley | Blue | 132lbs |
| 2017 | Ian Harbage | Blue | 126lbs |
| 2016 | Ian Harbage | Blue | 110lbs |
| 2015 | Clive Read | Blue | 135lbs |
| 2014 | D Gorring | | |
| 2013 | Ian Harbage | Blue | 80lbs |
| 2012 | Jake Jackson | Blue | 95lbs |
| 2011 | Jim Martin | Blue | 88lbs |
| 2010 | Phil Houghton | Blue | 106lbs |
| 2008 | Jon Read | Blue | 95lbs |
| 2007 | I Harbage | Porbeagle | 136lbs |
| 2006 | Martin Shipp | Blue | 125lbs |
| 2004 | I Harbage | Blue | 75lbs |
| 2003 | Jim Martin | Blue | 85lbs |
| 2001 | Martin Shipp | Porbeagle | 203.25lbs |
| 1997 | M Thomas | Blue | 132lbs |
| 1993 | T Reilly | Blue | 100lbs |
| 1992 | Carl Aldridge | Blue | 88lbs |
| 1988 | I Bunney | Porbeagle | 100lbs |
| 1987 | R Ratty | Porbeagle | 108lbs |
| 1986 | I Bunney | Porbeagle | 416lbs |
| 1985 | I Bunney | Porbeagle | 274lbs |
| 1984 | I Bunney | Porbeagle | 306lbs |
| 1983 | I Bunney | Porbeagle | 246lbs |
| 1982 | I Bunney | Porbeagle | 336lbs |
| 1981 | I Bunney | Porbeagle | 300lbs |
| 1980 | R Parsons | Porbeagle | 150lbs |
| 1979 | I Bunney | Porbeagle | 275lbs |
| 1978 | Mrs P Bunney | Porbeagle | 145lbs |
| 1977 | I Bunney | Porbeagle | 250lbs |
| 1976 | K Alexander | Blue | 86lbs |
| 1975 | G D Hunt | Blue | 110lbs |
| 1974 | P Davis | Blue | 78.5lbs |
| 1973 | R A Holmes | Blue | 94.5lbs |
| 1972 | P Webster | Blue | 140lbs |
| 1971 | Mrs P Smith | Blue | 94.5lbs |
| 1970 | Mrs P Smith | Porbeagle | 369lbs |
| 1969 | P Webster | Blue | 140lbs |
| 1968 | H Bennett | Blue | 139lbs |
| 1967 | W G Cooil | Blue | 126lbs |
| 1966 | M Cox | Blue | 112lbs |
| 1965 | F E Jessop | Blue | 149lbs |
| 1964 | F E Jessop | Blue | 112lbs |
| 1963 | P Wright | Blue | 113lbs |
| 1958 | P Black | Blue | 144lbs |