The T N Foster Trophy
Awarded annually for the heaviest shark of the season caught by a Member outside British Waters.
At the 26th July 1966 Committee meeting the T N Foster challenge text was altered to read, "Heaviest Shark caught anywhere outside the coastal waters of Britain by a member living in or outside Great Britain, All claims to be made on the Clubs Declaration Forms with the signatures of responsible witnesses".
The trophy was modified in 2017 by a Looe carpenter to create space for additional winners.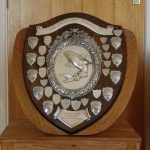 Year
Name
Species
Estimated Weight
2018
No Claim
2017
Ben Carter – Southern Ireland
6 Gill
1000lbs
2014
John Shaw – Montauk, USA
Blue
220lbs
2012
Chris Bett – Kenya
Tiger
600lbs
2011
Chris Bett – Kenya
Silver Tip
150lbs
2010
P Woodward
Bronze Whaler
165lbs
2007
J Reece
Hammerhead
352lbs
2002
J Reece – Durban S.A.
Bull
660lbs
2001
M Potter

J Reece

Copper

Tiger

242lbs

800lbs

2000
N Duckett
Copper
125lbs
1995
R Wooding
Blue
353lbs
1991
J Reece
6 Gill
1069lbs
1987
J Reece – Cape Town
Hammerhead
331lbs
1986
V Sampson – Florida
Tiger
751lbs
1983
F H Schindler – Kenya
Mako
237.5lbs
1982
J Reece – Florida
Tiger
400lbs
1981
F H Schindler – Kenya
Tiger
407lbs
1980
M A Carroll – Miami
Grey Hammerhead
265lbs
1979
F H Schindler
Tiger
702.75lbs
1976
P Mead – Shimoni, Kenya
Tiger
555lbs
1975
J J Holmes – Canary Islands
Spinner
178lbs
1973
Mrs A Ballantyne – Canary Islands
Blue
187lbs
1972
J Hughes – Bahrain, Arabian Gulf
Dusky
201lbs
1971
J Hughes – Jubail, Arabian Gulf
Hammerhead
257lbs
1970
J A Shaw – Kinsale, Southern Ireland
Blue
98lbs
1968
S G Miller – Bay of Islands, N.Z.
Blue
214lbs
1967
P J Wright -Tauranga, N. Z.
Thresher
468lbs
1966
W Persoon – Sagres, Portugal
Blue
194.5lbs
1965
W H Dutfield – Fiji Islands
Bronze Whaler
201lbs
1962
J J Holmes – Sagres, Portugal
Hammerhead
225lbs
1961
F C Cobbledick – Kinsale, Southern Ireland
Blue
138lbs