Sercombe Oliver Thresher Trophy
Awarded annually for the best Thresher shark of the season
The original Thresher trophy was donated by the Martini Rossi Company. The minutes of the committee meeting of the 26th September 1958 note that no Threshers were caught that season and the secretary was instructed to write to Martini Rossi to advise that "the trophy had once again found no winner" and that they should reconsider the trophy challenge.
On the 8th November the committee meeting minutes record that there "is evidence of Thresher sharks in the area", and the secretary being instructed to write to Martini Rossi to ask them not to change the terms of their trophy.
The last record of an angler winning the Martini Rossi Trophy was in 1990.
The next recorded Thresher award was given in 2002 when Paul Wickham won the Sercombe Oliver Thresher Trophy. It is not clear when and how the Martini Rossi trophy was replaced by the Sercombe Oliver Trophy and this is currently being investigated by the SACGB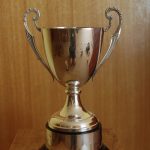 Year
Name
Species
Estimated Weight
1957
No award
1958
No award
1959
Brig J A L Caunter
Thresher
268lbs
1964
No award
1965
No award
1976
P Higgins
Thresher
264lbs
1978
R G Hendrie
Thresher
114lbs
1982
C R Underhay
Thresher
240lbs
1985
R Pakes
Thresher
223lbs
1990
M Wade
Thresher
280lbs
*********
*****************
***************
2002
P Wickham
Thresher
260lbs
2004
D Vokins
Thresher
240lbs
2005
C Allen
Thresher
250lbs
2006
D Vokins
Thresher
250lbs
2007
D Vokins
Thresher
500lbs
2009
D Vokins
Thresher
100lbs
2012
M Roberts
Thresher
337.5lbs
2013
P Wickham
Thresher
250lbs
2017
C Bett
Thresher
400lbs
2018
No claim
2019
Alex McKay
Thresher
520lbs
2020
Joe Filipe
thresher
200lb
2021
Spencer Wright
Thresher
210lbs
2022
Chris Avery
Thresher
360lbs
2023
Spencer Wright
Thresher
180lbs