December 1972 Newsletter Highlights
Brian Tudor is still the secretary and the headquarters is on The Quay in Looe
In his introduction he notes that the season was a very quiet one, but congratulates Don Cowan of Porchester who managed to secure another World Record for Great Britain.
He reports that Jum Hughes had died in a diving accident off Bahrain in the Persian Gulf where he had been working since leaving Mevagissey two years prior.
Another friend of the club and previous landlord of the Jolly Sailor, Alec McVeigh had also passed away after a short period of retirement from the Jolly Sailor which had served as the club HQ.
Bacardi Prizes:
August – Mr D Cowan of Porchester, Hants with a 296lbs Porbeagle caught out of Langstone aboard the Torbay Belle, skippered by D Adams
September – Mr R A Hulett of Flackwell Heath with a 158lbs Blue caught out of Falmouth aboard the Monkswood, skippered by F Vinnicombe
The overall 1972 prize for the heaviest catch went to Don Cowan.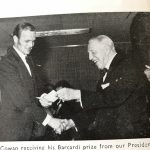 Shark numbers – the season had not improved since the last report in August and it had ended up a poor year. This was blamed on the cold weather so it was hoped that "the icebergs" remain within the Arctic Circle for the coming season
Boat Lists – members were asked to let the club know of any sharking boats that could be added to the list.
Fishing Safari Offer – One of the overseas members, Mr Une Sahlgren had offered a Sea Safari. Anyone interested was to make contact with, Mr. Nils Sjoestroem, in Malmoe , Sweden.
The offer was a Sea Safari at the Bamburi Beach Hotel (double rooms with air conditioning) . The flight left Copenhagen on 4th February 1973 direct to Mombasa in Kenya. Target species were Marlin, Sailfish and Wahoo.
20th Annual Dinner – once again held at the Hannafore Point Hotel in Looe it was attended by 215 members and their guests. Phil Heathman had left the management of the hotel but everyone agreed the high standards of previous years had been maintained.
Chief Guest this year was Vice Chairman of Looe U.D.C., Cllr. Mrs M E Couch, JP., C.C., accompanied by her husband and Mr A J Pengelley, Chairman of the Looe Harbour Commissioners and his wife.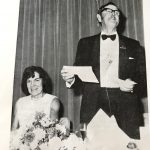 The speeches demonstrated the clubs concern with the matter of Conservation which had received significant publicity in the latter half of 1972.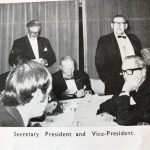 Shark steaks didn't make the menu (thankfully….) but the ladies were again presented with a corsage and as in previous years, Bill Collins and his band provided the musical entertainment ensuring the dance floor was well patronised during the evening.