December 1971 Newsletter Highlights
Brian Tudor is still the secretary and the headquarters is on The Quay in Looe
He begins with a short summary of the year where he mentions Mrs Yallops 500lbs Mako and the four other new British Records (listed below).   The club attracted 170 new full members and 63 associate members during the season which was a tremendous result.
He didn't report on the financials except to say there was good news ….. no subscription increase in 1972.
They had installed an Addressograph system to help with maintaining members records and appealed for more weighmasters at all sharking ports to be available for the coming season.
Daily Catch Record – Glyn Stockdale, a member from Stockport and three other anglers had caught 45 sharks between 30 and 65lbs on the 1st September out of Mousehole aboard the Talisman which was skippered by Frank Wallis.  This was a new club record.
International Contest – Once again the club had received an invite from the New Zealand club to join their annual competition. However, after sounding out the SACGB New Zealand members and those UK SACGB members who might be interested it looked unlikely to put together a team.
Shark Tagging – Dr. Q Bone, the SACGB Honorary Biologist was organising a tagging programme for the 1972 season, and the club were hopeful of the cooperation of sharking skippers
Rule Book – a new rule book was in the process of being constructed and the objective was to have it available for the AGM which was to be held at the Hannafore Point Hotel.
Bacardi Prize Winners:
July 1971 – Mr. George Hicks of Binstead, Isle of Wight won the July award with his 278lbs Porbeagle caught of the Isle of Wight
August 1971 – Mr G Doughty of London won the August award with a 153lbs Blue caught off Newhaven
September 1971 – Mr Jane Jung of London won the September award with a 137lbs Blue caught of Penzance
The overall winner for 1971 was Mr D Turner of Cowley, Oxford who caught a 355lbs Mako off Falmouth (the picture below shows Dave Turners Mako being brought aboard)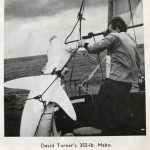 The 19th Annual Dinner – this was held at the Hannafore Point Hotel and 230 members and their guests attended.  The Chief Guest was Councillor E Barrett, Chairman of the Looe U.D.C. who was accompanied by his wife.
Phil Heathman managed to arrange for Shark Fin soup (oh how times have changed….)
All the ladies were given a corsage on arrival and by all accounts it was a joyous evening with much dancing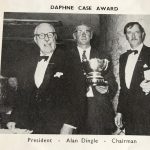 New British Records:
A Needham – 102.5lbs Blue on 12lbs line (Looe)
A Dingle – 122.5lbs Blue on 30lbs line (Looe)
Mrs J Yallop – 500lbs Mako on 130lbs line (Looe)
S J James – 105lbs Porbeagle on 20lbs line (Lymington)
G Hicks – 278lbs Porbeagle on 130lbs line (Isle of Wight)