Mitchell-Hedges Trophy
Awarded annually for the best shark of the season
This trophy was donated to the club by our first President, Mr F A Mitchell-Hedges at the first club General Meeting in the Hannafore Point Hotel in Looe on the 25th January 1953.
At that point in time the trophy had a value of £200 and it was used as security with the bank for the club to obtain start up funds via an overdraft.
It was originally called the Mitchell-Hedges Shark Trophy and was for the heaviest fish of the season. At the May committee meeting in the following year it was renamed the Mitchell-Hedges Cup. It was further agreed that it would be for the "best shark", based on the percentage in relation to the British Record and not the heaviest as previous.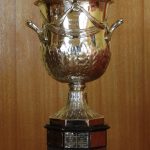 | | | | |
| --- | --- | --- | --- |
| Year | Name | Species | Estimated Weight |
| 2023 | William Whistance | Porbeagle | 405lbs |
| 2022 | Chris Avery | Thresher | 360lbs |
| 2021 | Simon Davidson | Porbeagle | 550lbs |
| 2020 | Ian Beaufoy | Porbeagle | 300lbs |
| 2019 | Harvey O'Malley | Blue | 173lbs |
| 2018 | Kevin Tapper | Blue | 138lbs |
| 2017 | Chris Bett | Thresher | 400lbs |
| 2016 | Alex McKay | Blue | |
| 2015 | Chris Avery, Clive Read & Des Kendall | Blue | 135lbs |
| 2014 | Chris Bett | Blue | 186lbs |
| 2013 | Andy Griffith | Blue | 167lbs |
| 2012 | M Roberts | Thresher | 337.5lbs |
| 2011 | Steve Chivers | Blue | 154lbs |
| 2010 | M Davies | Blue | 196lbs |
| 2009 | P Woodward & Richard Day | Blue | 137.5lbs & 125lbs |
| 2008 | Chris Bett | Blue | 119lbs |
| 2007 | D Vokins | Thresher | 500lbs |
| 2006 | D Vokins | Blue | 120lbs |
| 2005 | C Allen | Thresher | 250lbs |
| 2004 | Richard Day | Blue | 170lbs |
| 2003 | R Please | Blue | 155lbs |
| 2002 | P Wickham | Thresher | 260lbs |
| 2001 | J Griss | Blue | 117lbs |
| 2000 | N Duckett | Blue | 129lbs |
| 1999 | Richard Day | Blue | 123lbs |
| 1998 | Kevin Tapper | Blue | 115lbs |
| 1997 | M Thomas | Blue | 132lbs |
| 1996 | J Griss | Blue | 109.5lbs |
| 1995 | A Walther | Blue | 132lbs |
| 1994 | J Ardin | Blue | 123.5lbs |
| 1993 | K Swift | Blue | 126lbs |
| 1992 | J H Fox | Blue | 113.5lbs |
| 1991 | Dave Keen | Blue | 125lbs |
| 1990 | M Wade | Thresher | 280lbs |
| 1989 | Ken Horsfield | Blue | 134.5lbs |
| 1988 | D Pottinger | Porbeagle | 376lbs |
| 1987 | G Clarke | Porbeagle | 240lbs |
| 1986 | I Bunney | Porbeagle | 416lbs |
| 1985 | R Pakes | Thresher | 223lbs |
| 1984 | Dr. G Beaumont | Porbeagle | 308lbs |
| 1983 | I Bunney | Porbeagle | 246lbs |
| 1982 | P J De Prez | Porbeagle | 436lbs |
| 1981 | I Bunney | Porbeagle | 300lbs |
| 1980 | A Young | Porbeagle | 250lbs |
| 1979 | J Potier | Porbeagle | 295lbs |
| 1978 | R I Cottrell | Porbeagle | 450lbs |
| 1977 | I A Bunney | Porbeagle | 250lbs |
| 1976 | P Higgins | Thresher | |
| 1975 | W G Bowry | Thresher | 241lbs |
| 1974 | C G Austin | Blue | 130lbs |
| 1973 | T Sheen | Blue | 142.5lbs |
| 1972 | A H Hendersby | Blue | 122lbs |
| 1971 | Mrs J M Yallop | Mako | 500lbs |
| 1970 | Mrs P Smith | Porbeagle | 369lbs |
| 1969 | T Pailes | Porbeagle | 302lbs |
| 1968 | T Prince | Porbeagle | 306.5lbs |
| 1967 | A E Belsten | Mako | 410lbs |
| 1966 | F Junius | Porbeagle | 244lbs |
| 1965 | The Rt. Hon. The Earl of Kimberley | Mako | 390lbs |
| 1964 | S G Miller | Mako | 435lbs |
| 1963 | B E Stevens | Mako | 385lbs |
| 1962 | L J Hawkins | Porbeagle | 195lbs |
| 1961 | B D Phillips | Porbeagle | 227lbs |
| 1960 | P Betts | Blue | 164lbs |
| 1959 | G W Hazlewood | Blue | 198lbs |
| 1958 | A M Simpson | Mako | 324lbs |
| 1957 | Mrs Heathorne | Porbeagle | 271lbs |
| 1955-56 | A M Simpson | Mako | 335.5lbs |
| 1954-55 | H Whiddett | Blue | 180lbs |