SHARK FISHING
To book a fishing trip please contact the skipper direct
A typical day starts at 9am when the Looe Shark Boats leave Harbour for the fishing grounds some 12 to 20 miles out in the English Channel. Boats will often stop on the way to catch Mackerel for fresh bait.
On arrival at the fishing grounds, bags full of mashed fish know locally as Rubby Dubby are hung from the side of the boat, this creates a scent to attract sharks to the area.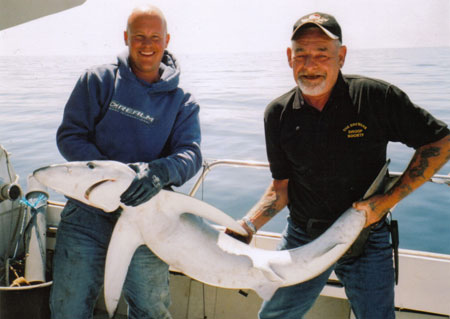 Often several miles are covered during the day as the boats drifts with the wind and tide. A size 10/0 or 12/0 hook is baited with fresh mackerel and the lines are set at different depths and allowed to drift away from the boat.
Tackle consists of a good quality rod and multiplier reel holding 300-400yards of line with breaking strains of between 30lb to 80lb.
These cope with most fish encounters. Whilst waiting for a shark to take the bait many anglers like to fish for other species such as mackerel, garfish or whiting… When a shark takes the bait the audible ratchet on the reel will sound a warning and the float will slide away. As sharks often run several yards of line from the reel it is important not to strike too quickly.
Once the fish is hooked it is important to ensure that the clutch setting on the reel is not too strong so the shark can take line when running without fear of the line breaking.
Once the shark has been brought to the side of the boat the skipper will take hold of the wire trace and heave the shark on board.
The fish is measured, tagged and returned to the sea unharmed.